This post is sponsored by Lowe's, all thoughts, words and opinions are my own.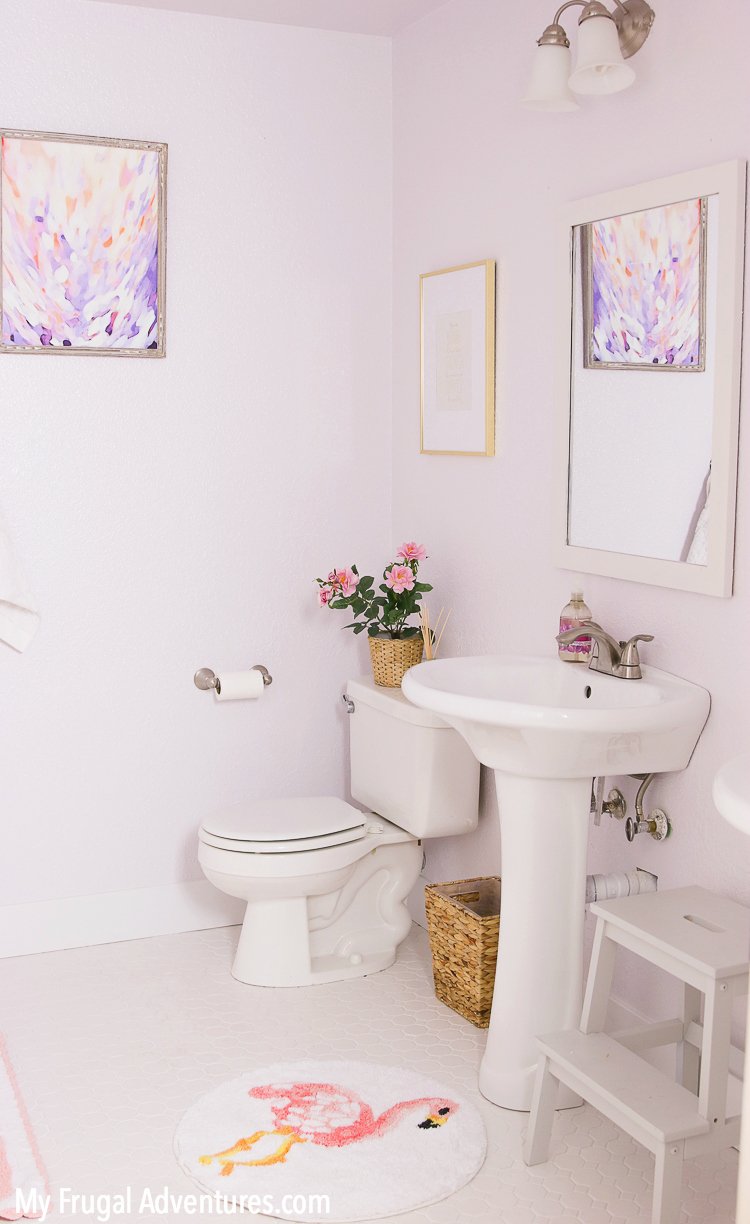 Oh man we have been so busy this Spring!  Super hot weather hit Sacramento the past few weeks and that means my husband and I have turned our attention from outdoor projects to indoor projects.  When I was recently given the opportunity to partner with Lowe's on a bathroom update, I jumped at the chance.  A project that keeps us inside (and out of the heat) and updating the bathroom?  I'm in!
My children share a small bathroom upstairs that I absolutely hate. It is dark and stuffy- the bathroom has no windows for natural light. There are two vanities which take up the majority of the space so it feels crowded and depressing with brown cabinets, brown vanities, mirrors and builder grade yellow/brown flooring. Blech! Plus the vanities are very inexpensive laminate – not wood- so they chip and peel and scratch and really look terrible. I was very excited to give this space a much needed makeover. And since this is My Frugal Adventures, we worked on a very modest budget for the renovation.
I started by creating a mood board with a general idea of the changes I wanted to make to the space:
Light and fresh and clean with lots of white and lavender and wood accents.  Since the bathroom doesn't have a window for natural light, I really wanted to make the space feel airy with crisp white and soft colors.
I knew I wanted to replace the vanities and the flooring and we were hoping to keep the entire project under $1500.  Yikes!  Fortunately Lowe's has a lot of very affordable options for the bathroom without skimping on quality.
So let's start with a little tour of the before.  This is a small bathroom without natural light so it was a challenge to photograph. and the angles are pretty awkward but this gives you an idea.
Another view:
We started by yanking out the old vanities. I wanted to go from two vanities to one simply because the bathroom is just so small. After looking at the plumbing and weighing the options of removing pipes and such, I decided to keep two vanities and go with space saving pedestal sinks instead. The pedestal sinks work with our existing plumbing but take up far less space than the previous vanities.
The one thing this bathroom has going for it is a lot of built in storage. There is a pretty generous cupboard built into the wall so storage within the vanity is not really necessary. For the children, we actually prefer a smaller counter space because it gives them less room to collect clutter. The prior vanities were always littered with toothbrushes, toothpaste, hairbrushes, medications… really all that clutter makes me nuts.
I considered four different shades of paint- a soft grey with hints of minty green, two shades of pink and a soft lilac color. We actually are not big purple fans in general but the soft purple was the clear winner. Lowe's carries Valspar, HGTV Home by Sherwin Williams and Olympic paint and they can also color match just about any color that you like. The walls were already a creamy white so just one coat of Valspar was all that was needed.
We moved on to the flooring and ripped out the laminate stuff that was there previously. I knew marble flooring wasn't going to be an option with our budget, but I actually love this honeycomb tile that is super affordable. The honeycomb tile reminds me of a beautiful, historic home I lived in during college in downtown Sacramento. The bathrooms and kitchen had tiny little octagon tiles imported from Europe in the early 1900's and meticulously laid by hand. I absolutely loved the workmanship and quality of that home and this white honeycomb reminds me of the details and care that made that home so special.
We have never laid tile before so this was a big learning curve. Fortunately we didn't need to make a lot of cuts and we were able to rent a wet saw and finished the tiling in a day (plus a day to let it dry) and then a second day to grout (and again a day to let that dry).
I absolutely love how the tile turned out and talk about big impact on a tiny budget! The honeycomb tile was just over $133 total! I actually placed my order for the tile online in the morning and was able to zip into the store and pick it up on the way to soccer practice in the afternoon. We were pressed for time to finish this project so not wasting time wandering up and down aisles was such a big relief.
Another project I was really happy with for this space was a tiny update to the built in cabinets. These were painted white on the outside, but the inside was a dingy brown. The interior of the cabinets is not solid wood but rather an unfortunate MDF situation and just felt dirty and old to me.
This picture gives you an idea of how depressing the cabinets were:

I used a Wagner paint sprayer to paint the entire interior of the cabinets a bright white color and used contact paper from the Lowe's storage and organization section to line each shelf. This entire project took a day to complete (clearing the cabinets, taping off the walls, spraying two coats of paint, drying time and then lining the shelves) I am really thrilled with the results! This might even be my favorite transformation for the entire room. I should have done this years ago and encourage you to consider painting any dingy old cupboards you might have. You really won't believe the difference!
PS:  The paint sprayer makes this process really easy!  Each coat took maybe 20 minutes from top to bottom and dried so quickly.  You don't have to reach a brush into awkward angles and you will use significantly less paint and get a perfect even coat.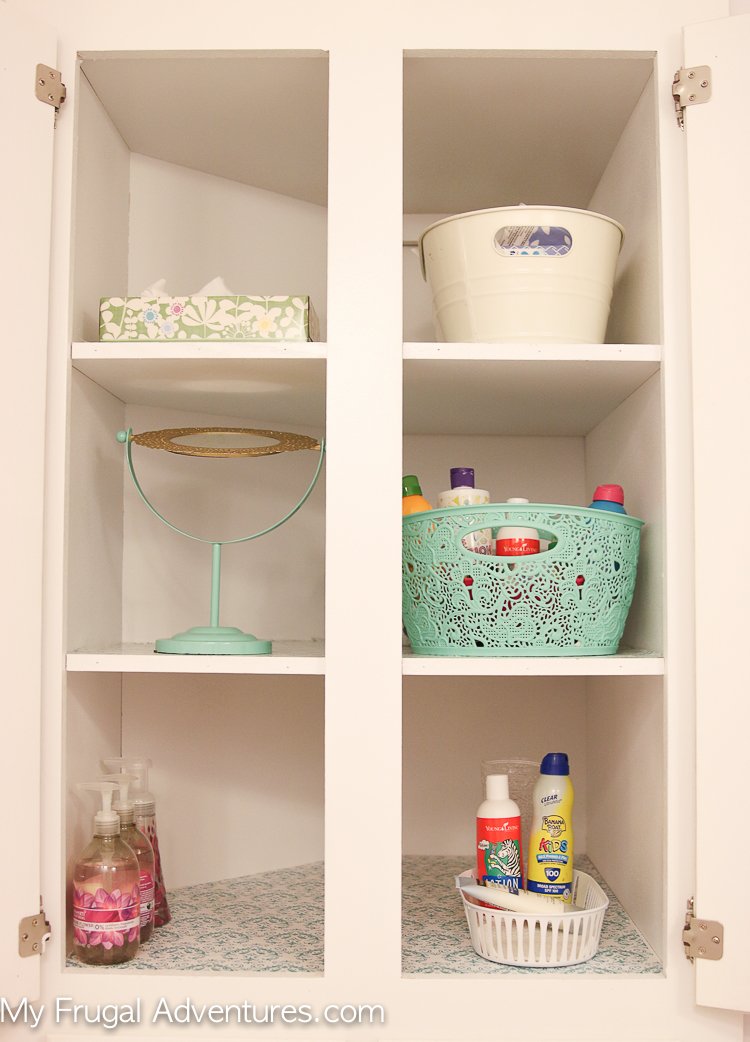 Last but not least I updated the mirrors over the vanity and the light fixtures and updated all the accessories.  I love the addition of champagne colored hardware from Lowe's.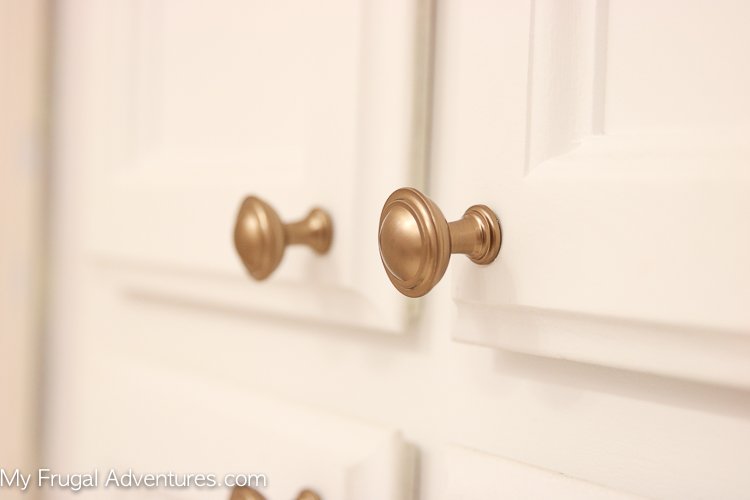 And I love these brass hooks instead of a standard towel rack.
I do want to note that we aren't completely done with this bathroom. We are hoping to yank out the plastic shower enclosure and replace it with tiles at some point in the future. I also really want to replace the faucets in the bathroom-I have some on order from Lowe's and can't wait to get them.
Oh and one last tiny and very inexpensive idea that I was very happy with- replacing the fan cover in the bathroom!  The fan in the bathroom had an original plastic cover that is from when the house was built 25 years ago.  It was dingy and yellowed and looked horrible.  This cover was at Lowe's for about $8 and makes such a nice change.
We did work steadily on this project for about 2 1/2 weeks total, stealing an hour here and an afternoon there. The transformation is pretty remarkable for such a short window of time and you won't believe the budget breakdown for this project.
Tiles $133
Wet Saw Rental/Grout/Paint and other supplies $234.65
Pedestal Sinks $198 for two
Contact Paper $6.97
Hardware for Cabinets $15.88
Misc Accessories (bathmats, shower curtain, trashcan, towels) $150
Total: $738
And you can get a ton of ideas from Lowe's here to complete your own bathroom refresh.
A huge thank you to Lowe's for sponsoring this post and motivating me to tackle this project!