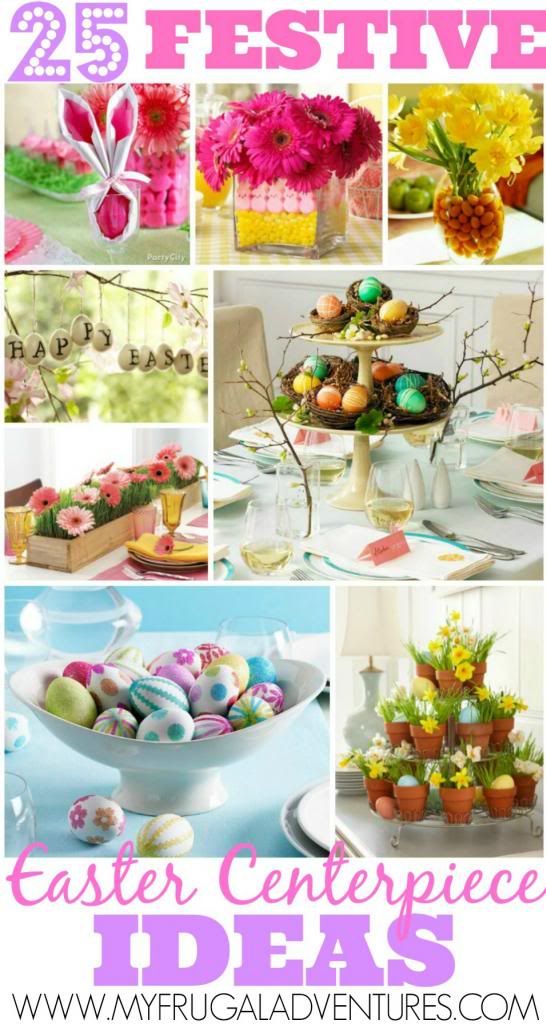 I thought it might be nice to put up some ideas today for Easter decorations and centerpiece ideas. Easter is actually right around the corner and many of you might be itching to bring Spring into the house anyway (I know I am!)
I tried to find things that were fairly easy to do and not super expensive. Also I personally don't like overdone centerpieces that don't allow you to actually see the other people at the table. So hopefully these work to add beauty and to be practical as well.
Hopefully you find some inspiration!
Quick & Easy Flower Tablescape // Coordinately Yours
*This is just simple Mercury glass vases with flowers. Very simple and pretty! You can even make your own Mercury glass with the tutorial here.
.
Floral Table Runner Tutorial // Real Simple
.
Pastel Kid's Easter Party Table Decorations // Hostess With The Mostess Blog
*Fun ideas for things for the kid's table– a lot of these decorations can just be purchased at craft stores.
.
Blue Green Easter Table // Centsational Girl
.
Spring & Easter Centerpieces: Yellow Daffodils & Blue Eggs // Everyday Occasions
.
Happy Easter Vase Filler // Pottery Barn
*This is an easy DIY project with Easter eggs and these would be pretty with wheat grass in a bowl.
.
Inspired Spring Decor // Better Homes & Gardens
*Kumquats as a vase filler with tulips.
.
Pretty Ways to Decorate With Easter Eggs // Better Homes & Gardens
.
Easy Easter Centerpieces and Table Settings // Better Homes & Gardens
*Simple cake plate with colored eggs.
Easy Easter Tablescape in 5 Minutes // Hoosier Homemade
.
Splendor In The Grass // Good Housekeeping
.
Bunny Napkin Holder // Party City
*Cute way to fold napkins in a bunny shape.
.
Easy Fruit Loop & Bubble Gum Easter Centerpieces // Holiday Helpings
*You can easily use Peeps instead!
.
Easter Peeps Centerpiece // Taste of Home
.
Colored Eggs and Paper Nests Centerpiece // Dream Home Decorating
*Simple eggs on a table as the centerpiece. I think this might be pretty on a mantle too.
.
Rock-a-Bye Birdies // Spoonful
*I think these can be made using just Sharpies instead of the creepy eyes.
.
Wheat Grass Table Centerpiece // Martha Stewart
.
Paper Strip Nest Place Setting // Better Homes & Gardens
.
Simple Painted Egg Centerpiece // Better Homes & Gardens
.
Pink and Blue Festive Easter Tablescape // Torie Jayne
*Really fun ideas for a kids table.
.
Quick & Easy "Easter In a Cup" Table Decorations // Funkytime
.
DIY Birds Nest Napkin Rings // Scissors and
.
Adorable no die Easter Eggs in bunny shapes // BHG
*Maybe as a place card holder?
.
Cute Coconut Easter Bunny Cake // Jenny Stephens
*I am going to try this myself!  
.
Pipe Cleaner Bunny Napkin Rings // Creativity by Kids
And here are a few more fun Easter ideas:
Magic Jelly Bean Garden (so much fun for kids!)
Easy Carrot party favors- these are great to make to keep the kids busy before Easter Egg hunts and such.