This post was sponsored by Lowe's as part of an Influencer Activation for Influence Central and all opinions expressed in my post are my own.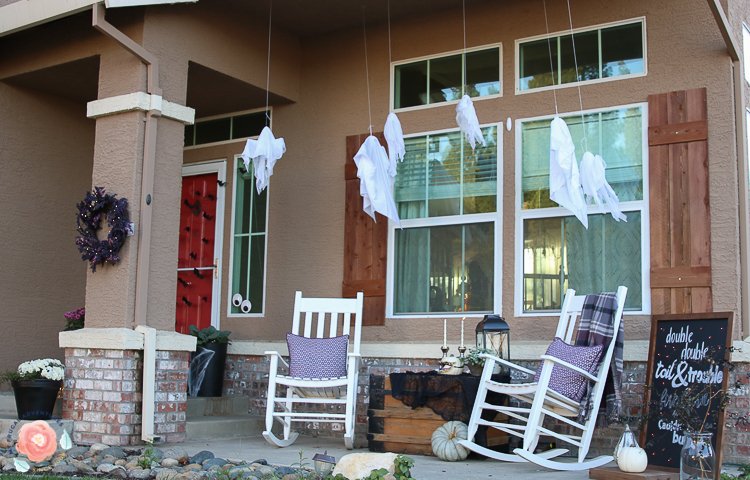 I recently had the opportunity to work on a very fun project with Lowe's Home Improvement stores.  Lowe's challenged me to come up with some festive Halloween ideas focusing on glam, black and metal decor.
I typically keep things pretty simple for Halloween- just a few pumpkins and mums here and there- so I was excited to head into Lowe's and see what I could find.  We do have very small children on our street (and in our house) so I tried to keep things fun and not scary – some ghosts blowing in the breeze and spiderwebs made their way onto our porch this year.
I found this pretty purple and black berry wreath from Lowe's as the starting point, pulling the purple and black colors as the foundation for the porch with a few metal accents here and there to add some glam.
I found some simple ceramic pumpkins at Lowe's and rather than cutting the pumpkins, decided to dress them up with some masquerade masks.
We have an old trunk on the patio and I just draped it with a black tablecloth and added some silver candlesticks and a black lantern with faux spiders spray painted copper.
The garden department is always a goldmine for holiday decor. I love this creepy looking plant I found and for a little whimsy, I added plastic ping pong balls dotted with black paint.  This plant had the children giggling and might just be my favorite piece of decor.
I also picked up some ornamental kale for the front door.  This sort of reminds me of a venus fly trap and I love the subtle purple accents with the fresh green.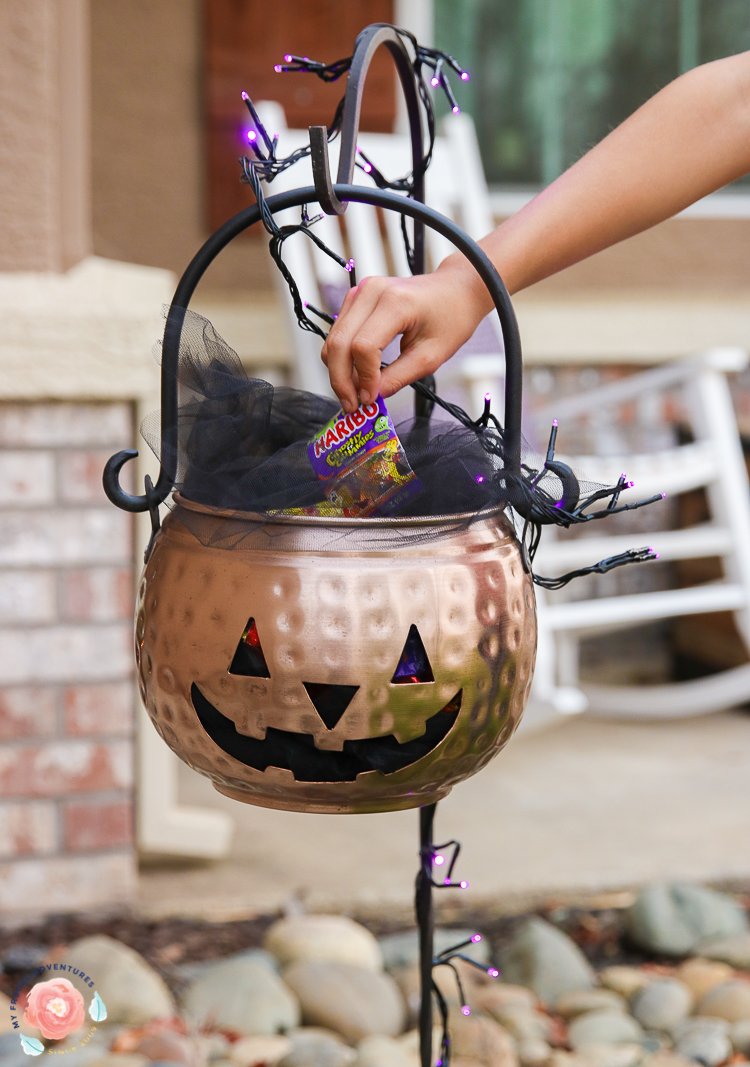 I do have small children, so we tend to be at Halloween events ourselves and not at home for trick or treaters.  I found this hammered copper bucket and used a Shepard's Hook from the garden department to hang the bucket to hold candy for trick or treaters.  To be sure they see it at night, I twisted some of the purple twinkle lights from Lowe's around the hook.  This particular set is battery operated and has a timer to turn on and off according to your schedule.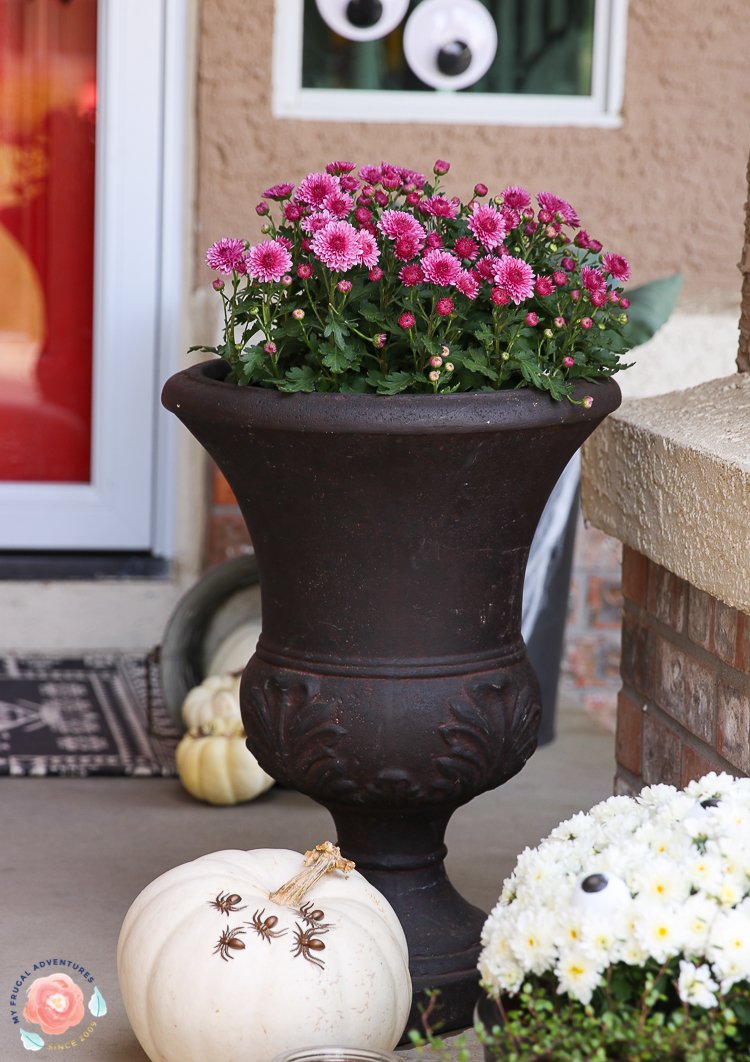 I love this black urn planter I picked up.  It looks like a substantial piece but it is super lightweight!  This is perfect for Halloween and I think it will look so elegant for Christmas.
Lowe's also has these mini pumpkins in several colors and I thought they were fun spilling out of a bucket with some spiders on top.
A few other little simple DIY projects- this plain terra cotta planter got a little makeover with black spray paint and I updated an old, dingy metal planter I had in storage with the same fresh black paint.  I found some spider webbing packages at Lowe's and used that to add a little extra creepiness to the planter.
A few purple pillows, a throw and some bats that I just cut out onto black card stock and taped to the door and that is about it!
I love these silver pre-lit pumpkins from Lowe's- I picked up a few.  I also added a few branches clipped right off our tree into a vase and lightly spray painted them black.
I did want to try one more easy project that would add a bit more sparkle and uniqueness to the porch with this chalkboard sign.
Lowe's sells chalkboards in the lumber department– this entire 36″ x 24″ sheet was just $9.99.  I spray painted some leftover trim I had on hand and screwed that on to the front of the board.  Next I used chalk to write out this Shakespeare quote from Macbeth and drilled random holes in the chalkboard to pop through some purple twinkling lights.  Very easy project and you can either do this with chalk pens or paint for something more permanent or erase and update the quote according to season.  This would be lovely up for Christmas with one of your favorite holiday quotes.  Super versatile piece that only took a few minutes to make and about $15 or so between the lights and the chalkboard.
Here is the sign at twilight, all lit up.
This was a really fun project from Lowe's and my children were absolutely delighted with the result.  We actually had random neighbors stopping by to mention how fun the house looked for Halloween.