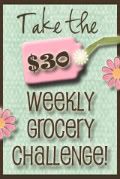 Kathy at $30
WeeklyGrocery
Challenge wrote a nice post
HERE
on the basics of putting a grocery budget together and her strategies for shopping. I pretty much follow all the same ideas that she presents. Our budget is $40 per week- it isn't so much a necessity but more to be able to build our savings account as quickly as possible. We try to be a little flexible with the budget- this month for example we will be a little off as we have run out of so many staples (like
TP
, laundry soap, coffee etc.. etc..) Also I thought I might try to fit diapers (for 2) and formula into the budget and it just isn't gonna happen. So we will probably be closer to $50-60/week this month. Which is still pretty incredible!
.
One thing I do want to add- is that what works for us may not work for you. I am a stay at home mom so I have a little more flexibility to hit several stores in a week. Also, I do not eat meat so that cuts down on one of the biggest expenses you face at the grocery store. (Although my husband eats enough for both of us). So if $100 a week is comfortable for your family, there is no reason to feel badly about that.
.
Also, once you have been shopping smart, stockpiling and using coupons for awhile you will start to need less and less every week from the store. You will also find that you never have to pay retail again for things as you have the ability to hold out until items hit the lowest price. Even better- you don't need to run around to 5 stores every week. I have enough items on hand that I can pick and chose from week to week what deals I want to take advantage of and what I will pass up simply because I don't feel like going to the store.